This is about "creating nothing" and the art of letting go. We surrender our expectations and connect only to the process, the music, the colors and to the idea of expressing as a healing tool."

Who would benefit from this experience?
Anyone seeking: connection and creativity, self discovery and awareness

 Sandra is business owner, an intuitive artist and certified facilitator; owner/ operator of a private art school near Syracuse NY. Her journey has taken her on a rough and wild ride through creative peaks and valleys. She has offered creative guidance and intuitive support to thousands since 2002 and now offers a beautiful course collection called, "creating with Spirit" Creativity craves connection…..Join a creative community. To book a private party or large event.
Contact Sandra Sabene LAC at LiverpoolArtCenter@gmail.com
View her 2018 TEDx talk to learn more about "The Art of Letting Go'" and how this inspires communities to raise self awareness, connect deeper and grow.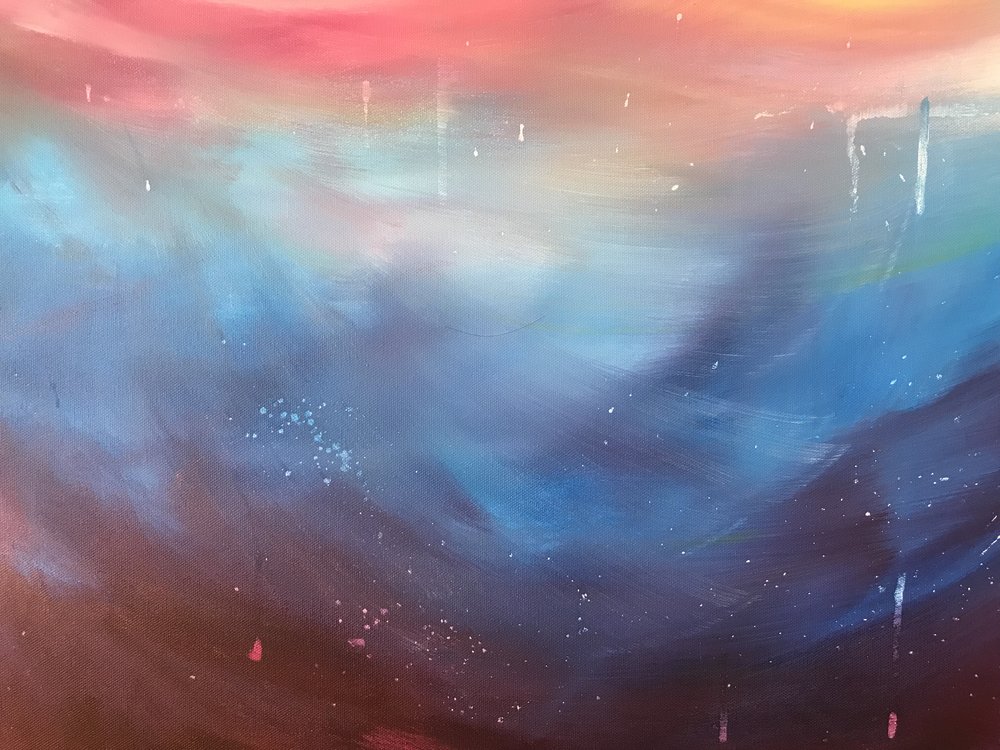 For more than 20 years Sandra has developed, participated in and facilitated
hundreds of art programs, workshops and presentations that help others realize
their full creative potential. This realization awakens a person's life both emotionally
and intuitively; reconnecting them to the lost art of self expression.
"Experience the "Blend" of Arts and Healing within Sandra's artwork & her programs
Recent Programs Designed and Facilitated by Sandra 2005-2015
· Creative Rhythms TM- Expressive Arts & Rhythm for wellness for hire
· Creative CommUNITY Events: 30+ designs for social painting classes
· Arts & Healing Workshops: "The Art of Letting Go" TEDx VIDEO
· Meditative Painting TM with Sandra Interactive Workshops for Self-expression
Workshops for Expressive Arts include: Painting, Art Journaling, Drumming, flute, vocals)
· Arts & Healing Retreats: "The Color Within" ~ "A Walk Around Our Color Wheel" ~
Meditation ~ Drumming Circle ~ Visually Guided Meditation workshops ~
With a determined heart filled and a passion to help others
Sandra continues to reach out :
· An award winning wildlife artist
· Instructor: Everson Museum "A Walk thru Watercolors" Plein Air Workshop
· NY State Fair Superintendent for Fine Arts & Phototraphy
· Teen Institute~ Liverpool Team host and art programs for annual retreat
· Event Coordinator~ Liverpool Arts & Wellness/ Spring Event (4 years)
· Host for Visual Art Showcase WCNY TV
· Coordinator & Sponsor for the Riverside Art Show (2 years)
· Art Program Facilitator with Canteen -Teen organization, Cicero
· Program Designer: Liverpool Art Center Youth/Teen/Adult Studio
· Host for Mommy & Me Art Programs
· Program Designer for Self Discovery through Art
· University Hospital Pediatric Arts Program Facilitator
· Reiki for Life Seminar Dewitt Program
· Meditative Art Programs for Vera House Staff
· Spirit Art Programs at CNY Healing Arts, Syracuse
Meditative Painting Programs:
· Events in Syracuse, Ithaca, Rochester, Buffalo, Cortland, Fulton & Oswego
· Creative Classes for "Special Needs" Adults from the Cortland ARC facility
· Live appearance on BridgeStreet teaching the hosts to "paint meditatively"2011
· Drumming Facilitator hired by Unity Festival, Syracuse, Onondaga CommunityCollege, CNY Healing & Eastwood Community/ Senior Center
· Coordinator and Participating Sponsor for Annual student event since 2010:
On My Own Time Event
Art Shows/Events 2000-2018:
· Exhibition 2012 - Prince George Ballroom, NYC
Syracuse Arts & Crafts Festival program facilitator 2011-12
· NYS FAIR Wildlife Exhibition, Art & Soul Watercolor Group Exhibits
· N. Syracuse Art Guild Editor/exhibitor, Liverpool Arts Festival
· Syracuse Art Mart exhibitor/demonstrator 2001-2005, 2011
· Commercial Art- demonstrator, Syracuse Arts & Crafts Festival 2008-2010
· Rochester New Life Expo, Palace Theater (fixed exhibit)
· EVERSON MUSEUM's 60/60 Event annually since 2009
· Crouse Hospital- physician's building 2008/physician's Library 2012
· 4 paintings purchased by Upstate Cancer Center 2014
Linus Gallery (Pasadena CA) online exhibition 2015
"All Women" competition Special Recognition Award 2015